4 Independence Day Nail Sets for Celebrations
The Fourth of July will bring us a brilliantly patriotic manicure theme. We will be able to celebrate with activities that are exciting for the whole family, such as barbecues and fireworks. So this is your time to show your patriotissm and to have a little fun by wearing Glamermaid's Independence Day nails.
To celebrate American Independence Day, Glamermaid has newly released 4 amazing and worth buying Independence Day Nail Sets that include toe nails as well. There is a set available for everyone, regardless of whether you want to go bold or opt for more subtle.
GLAMERMAID- Independence Day Nail Set A
(click on the image to get the product)
The very first nail set in our new release Independence Day Nail consists of 10 products just for $62.99. Isn't that amazing? This Set A provides you with everything you will need to showcase your patriotism and affection for your nation. This set comes in two different designs of Independence day nails which are National Center and Independent Ambassador. This set has an Open adjustable ring in Black zircon. It also includes a Black Zicron Ring, Goodnight Toe nail kit, and a variety of tools such as Nail Tip Glues, a Nail Prep Oil Remover, a Nail Glue Debonder, Manicure file, a Stainless Steel Cuticle Pusher, and Prep pad. It's an all-in-one deal and worth every penny.
GLAMERMAID- Independence Day Nail Set B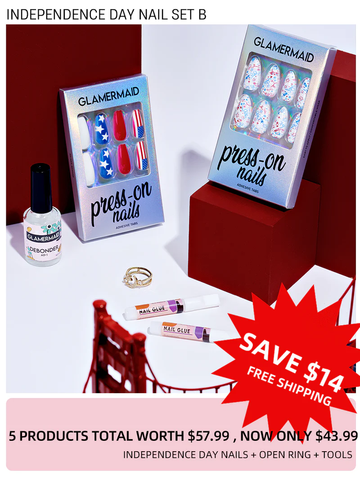 (click on the image to get the product)
This set has everything you will love and enjoy. It includes 5 products with a total worth of just $43.99. That is a complete steal deal here for you. This Set B contains two types of press on nails available in Independent Ambassador, Fireworks Element designs with a Starry Moon ring. You will also find a variety of tools in this Glamermaid's Independence nail set like Nail Tip Glues and a nail Glue Debonder.
GLAMERMAID- Independence Day Nail Set C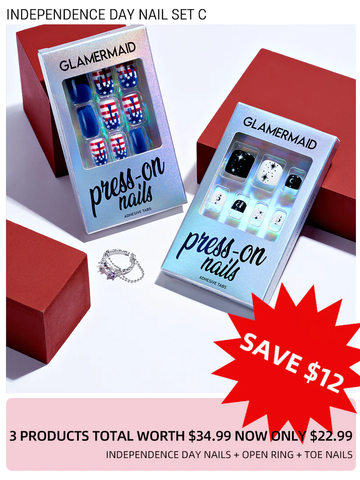 (click on the image to get the product)
This affordable nail set proves that you can buy excellent stuff to pamper yourself for less than 50 dollars. It contains a press on nail kit in National Center design. It also has toe nails in Moon And Star. Moreover, you will also get a Geometrical chain that will surely look chic with any of your looks. The total worth of the products included in this set C is worth just $25.
GLAMERMAID- Independence Day Nail Set D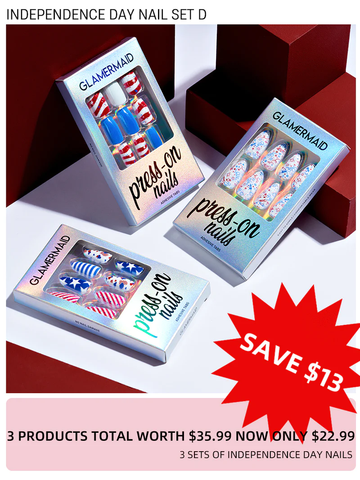 (click on the image to get the product)
This set D is totally fitting the American Independence day theme. This impressive Glamermaid's nail set contains the best press on nails available in Firework's Element, Heart Country, and Hero Day designs. This set has everything to give your nails a new and exciting look this independence day and to show your patriotism through your nails.
Despite its similarities, each of these four nail sets is unique in its way. The cost of these four Independence nail sets varies based on the number of pieces included in each set. Now, come and get nailed by availing off these oh-so-amazing deals for Independence Day, and keep celebrating the red, white, and 'YOU' with Glamermaid!