Best Gifts for Mother's Day
Mother's Day is an opportunity for all of you to express your affection for the important female characters in your lives. This Mother's Day, you can express your love by purchasing a beautiful gift for mothers you admire. The best Mother's Day gifts are the ones that have been thoughtfully chosen.
When it comes to buying Mother's Day gifts, most of you stick to the classic options like flowers, dresses, fancy tea, and greeting cards. However, if you want to make a statement this year, you may want to go a little bit deeper. A press on nail set is one of the unique gifts you can offer. You must celebrate the most important person in your life by buying her a gift from a beautifully designed collection of Glamermaids.
Glamermaid has created a lovely and reasonably priced Mother's Day gift box set to help you choose the perfect gift for your mother. These gift box sets are designed according to her personality and interests, and they will allow you to express your genuine gratitude for everything that they contribute.
There are three different Mother's Day gift box sets available to purchase on Glamermaid. They are as follows:
1.    
Mother's Day Gift Box Premium
This box has everything your Mother will need to pamper herself. This Premium Gift Box contains two types of press on nails available in Butterfly and Cat, Leaves designs and a Goodnight toenail design kit. It comes with a variety of tools, including a manicure file and a Stainless Steel cuticle pusher, as well as nail tip glues and a prep pad for your nails. It also has a nail glue debonder and a nail prep oil remover with a Starry Moon Ring. It consists of a beautiful packaging bag with a heartfelt Mother's Day greeting card.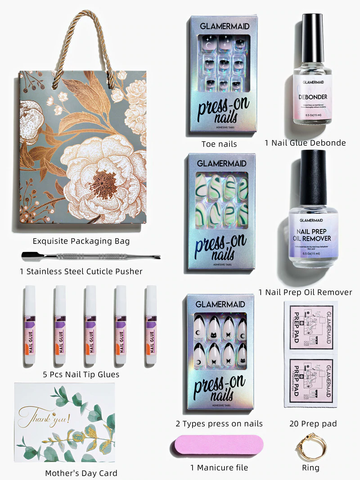 2.    
Mother's Day Gift Box Intermediate
This affordable nail box set proves that you can buy excellent gifts for less than $50 dollars. It contains two types of press on nails kits in Goodnight and Daycation designs. It also has two manicure tools, including Nail Glue Deboner and nails tip glue. After receiving this box as a present from you, your mother will wonder why she wasted all those years coming to the salon for a manicure when it was so simple to do at home. She will also get a Darkstone ring and a meaningful card as part of this gift set.
3.    
Mother's Day Gift Box Primary
This impressive gift box features the best press-on nails and toenails with a Silver Rose ring. The press on nail is available in the Black Marble design, and the toenail is available in the Daisy Garden design. This package will save your mother both time and money by allowing her to create a look at home. Furthermore, the package bag is so attractive and festive that your Mother will not want to throw it away.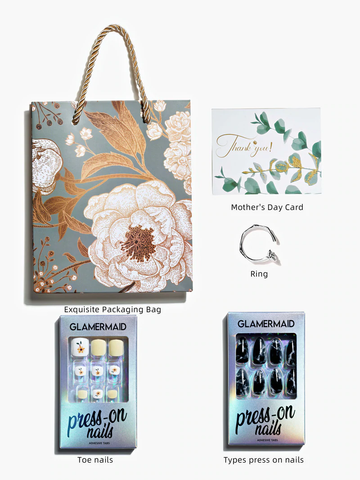 Despite its similarities, each of these three gift box sets is unique in its own way. These gift boxes offer different pricing choices, making it simple for you to choose something that you like and can afford for your darling mother.