Best Nail Tip Glue For Long Lasting Press On Nails
The majority of us like having long and gorgeous nails, yet it seems like they take forever to grow. But the good news is that press on nails have become a big deal recently. However, you are going to require the best nail tip glue for press on nails to secure them to your natural nails.
Best Press on Nails glue is a must-have in ensuring the longevity of your press on nails. After a few days of applying press on nails, it is frustrating when one of them falls out. That is why it is so important to apply high-quality nail glue for press on nails that bonds quickly and keeps your nails in place and strong. Glamermaid is the most innovative nail brand in the beauty industry that has shown its continuous support for the at-home press on nail manicure by releasing the best press on nails glue that will make your next manicure a breeze.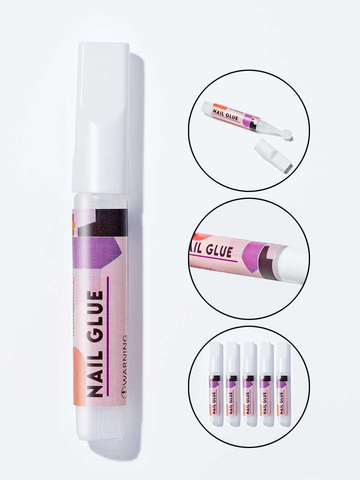 (click on the image to get the product)
The nail tip glue offered by Glamermaid is of high quality and has a lasting impact. It is simple to use, and there are no unexpected gouts of glue that shoot out of the tube. The formulation dries completely smooth and flat without any roughness, making it an excellent choice for press on nails. It adheres immediately and may last for up to at least two weeks at a time.
https://www.tiktok.com/@glamermaid/video/7028490972321352966
You can use nail tip glue for long or short press on nails, broken nail repair, and small nail art decorations such as rhinestones, beads, and gemstones. Nail tip glue enables you to create beautiful nail art designs in a short amount of time. It is great for use in DIY nail art at home as well as in professional nail salons.
Glamermaid's nail glue for press on nails is a non-toxic product that does not cause any damage to your natural nails. It has been certified by MSDS and SGS, two of the most respected standards organizations in the industry. It is made with healthy ingredients such as ethyl cyanoacrylate. However, it does have a slight odor to it.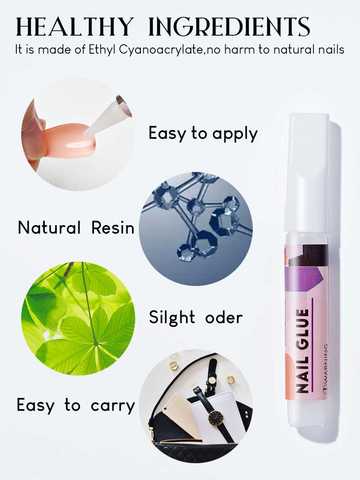 (click on the image to get the product)
Nail Tip Glue comes in packs of five pieces each at Glamermaid. Each nail tip glue consists of two grams apiece. Although 0.05 to 0.1 grams of glue could be required for each individual nail tip, a single tube of two grams' worth of glue is sufficient for one to two times application of press on nail manicures. It is designed to be lightweight so that it can be used and carried with ease.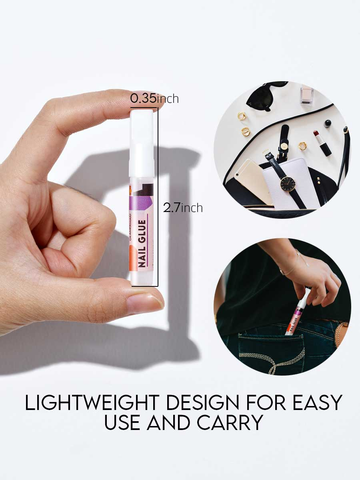 (click on the image to get the product)
Use this nail tip glue, and you can guarantee your press on nails won't annoyingly pop off. Just note that a little goes a long way, and you only need a thin layer of Glamermaid's nail tip glue to adhere to your press on nail. Below is the three-step process to apply nail tip glue on your press on nails:
To apply the nail tip glue, uncap the tube.

Glue the inner surface of the press on nail.

Just press and hold together for a few seconds, and you are ready to go.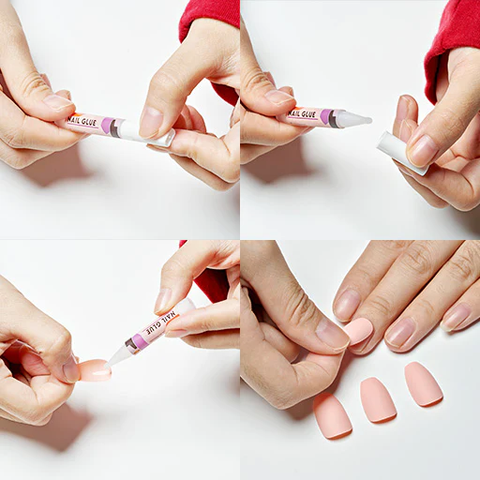 (click on the image to get the product)