Best Press on Nails Released for Stunning Women
In today's age, press on nails have become the most popular type of manicure. Wearing press on nails not only transforms the look of your nails but also provides a confidence boost. Funky designs, nails with pearl, and gemstone appliqués can be easily enjoyed using press on nails. You just have to wear them and you are good to go anywhere.
So, if you're a fan of pearls you'd be glad to know that the pearl obsession that took over jewelry and accessories is now dominating nail art as well.  That is why Glamermaid has newly released nails with pearls that add a pretty and feminine detail to your manicure looks.
In light of this, not only will we show you Glamermaid's pearl press on nails, but also other recently revealed best press on nails as well. So keep scrolling!
● Elegant Pink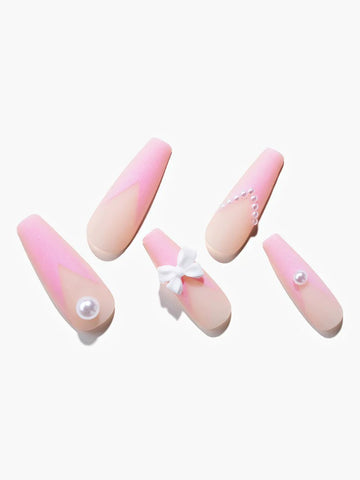 (click on the image to get the product)
This luxury pearl press on nail set is a great choice for any bridal event or just a touch of elegance and ultra-glam. These handmade nails are made using only professional quality gel polishes, pearl charms, and a bow.
This set features a nude base, a pretty pink French line, curved pearl beads, and a cute single pearl on accent nails, with a glossy finish. It sure makes for great eye candy.
● Black Pearl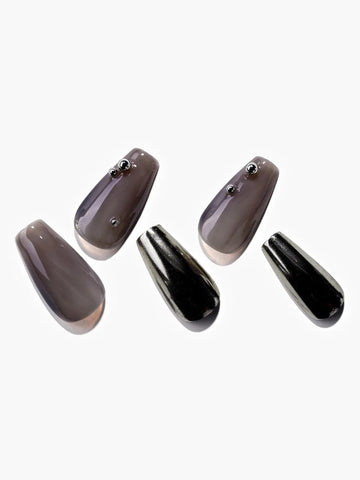 (click on the image to get the product)
Sometimes you just want to look and feel rich, and if that's the case the Glamermaid press on nails are here to help you do that. For instance, the Black pearl style features luxury nails with multiple iridescent pearls. This pearl press on nails style magically looks both over-the-top and genuine at the same time. These nails are a show-stopper for sure.
● Silver Sand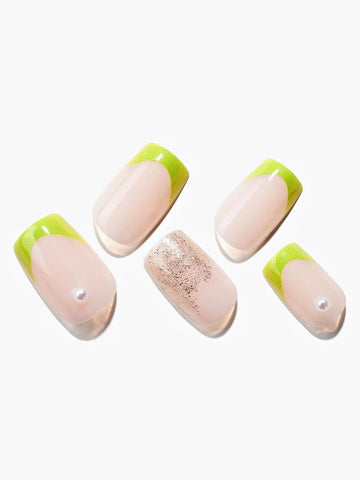 (click on the image to get the product)
Whether for an extravagant flourish or a minimalist manicure, a single pearl manicure can work for any personal style. It features mix and match French press on nails with pearl accents.
The nude pearl-adorned base with green french line and shimmer, Silver Sand press on nails will have you shining bright like a diamond. This style is perfect for anyone who loves a little extra drama.
● Girly Pink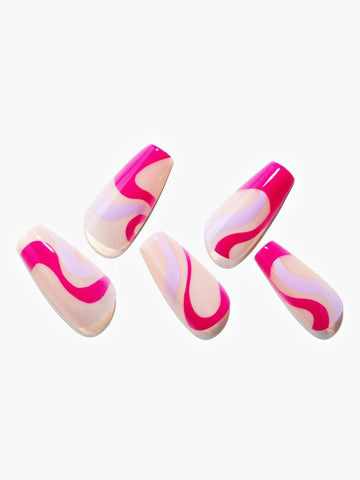 (click on the image to get the product)
Are you a sucker of pink nail art? Fret no more, Glamermaid's got you! It features swirls design with the perfect combination of pink and lilac color and nude as a base color. You can finally get the pink nail art you've been looking for! The color variations really make this Girly Pink design unique and delicate. This cute design will remind you of the cotton candy. 
● Cat Group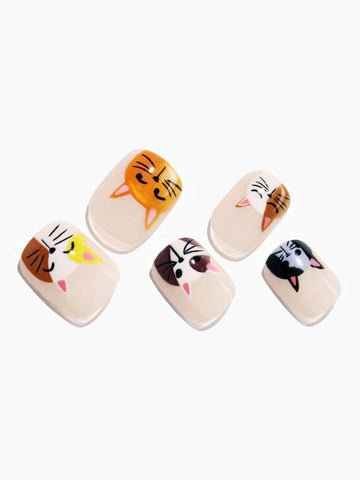 (click on the image to get the product)
Every girl likes cat nail designs, it is an axiom. So express all your love for cats by adding cute colorful tiny cats on all of your nails with Glamermaid's Cat Group press on nail design. Bright colors and funny cats will take your ordinary manicure to the next level. This design is the best choice for romantic natures and true fashionistas.
With the above mentioned newly released best press on nails add happiness to your everyday style! So please, go on and pamper yourself with Glamermaid's beautiful set of press on nails.