Do Press On Nails Damage Your Natural Nails?
Applying Press on nails is the easiest way to get a perfect manicure without visiting a salon. Unlike acrylic and gel nails, they are a better and safer alternative that does not damage your natural nails. The reason is that we don't need to use harsh chemicals to apply and remove them. Upon applying press on nails, you will be away from acetones, dehydrators, and even primers. However, to keep your nails healthy and strong, you must choose high-quality press on nail products.
The best thing about press on nails is that they just require a small amount of adhesive to apply and can be easily removed with soap, oil, and lukewarm water.
Glamermaid, a reputable press on nail suppler, is the best brand to get high-quality press on nail products. They provide MSDS and SGS certified products that do not damage your nails. Furthermore, the goods are made from recyclable materials and are free of odors and toxins.
A Glamermaid press on nails kit consists of nails, sheets adhesive tap, a manicure stick, a manicure file, and a Prep pad. It also has a professional tool, a Nail Glue Debonder, that is available for purchase. It is a solution that makes it easier to remove your press on nails by softening the adhesive.
Image of Glamermaid Nail Glue Debonder
Steps of Press on nails application and removal process
The application and removal of press on nails are the most crucial steps to perform. The process is very quick and simple. If you follow the instructions properly, you can do it right in less than ten minutes.
First, clean your nails and push back your cuticles with a manicure stick. Now smooth the surface of your nails with a manicure file, and then use a Prep Pad to remove any oil or dirt from your nails before applying press on nails.
You must pull all the nails out of the kit, set them in order, and select the appropriate nail size for each of your fingers by comparing the various sizes in your kit.
You may also need to try the sheets adhesive on your nails since they come in various sizes. Later, remove the sheets from the plastic and press them against the inside section of the press on nails to help them adhere better. Additionally, you may also use nail glue. You must use a small amount of nail glue inside the press on nail. Make sure not to apply the glue directly to your natural nails.
You must put your natural nail into the press on nail and press it hard for 15 seconds. To ensure that your newly acquired nail appearance lasts as long as possible, prevent any contact with water for at least 2 hours after the application.
After you have finished applying all of your press on nails, you may add a top hardener coat to give them an extra layer of protection and gloss.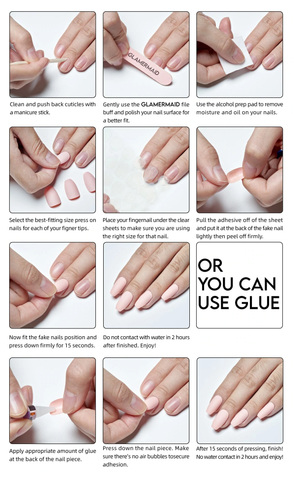 Application of Press-on Nails
Despite the fact that press on nails do not damage your natural nails, you should still be cautious while removing them.
You may soak them in warm water for up to 15 minutes to remove the adhesive. After this, remove the press on nail from your natural nail using a steel pusher.
You may also use the Nail Glue Debonder solution that must be dripped into the gap with a brush and allowed to dissolve for five to ten minutes. And then gently remove the press on nails when the adhesive has dissolved.
Removal of Press-on Nails