Get Patriotic Press On Nails to Show Off Your Independence Day Spirit!
When the Fourth of July rolls around, it is the perfect opportunity to experiment with some patriotic press on nails at home. You may show your love for your nation by decorating your nails with flags, stars, fireworks, and patriotic colors like white, red, or blue. 
Additionally, you may display your patriotism by wearing Glamermaid press on nails. There are a lot of choices available on Glamermaid to keep your nails patriotic.  From French tips to abstract ideas or loads of dots, there are choices for everyone. They will definitely catch the eye of the people around you.
So let us take a look at Glamermaid's best press on nail designs for the Fourth of July that will undoubtedly enhance the look of your hands.
●  Independence Road
(click on the image to get the product)
If you prefer to make more of a statement with your nails? Independence Road is the right choice for you. They are one of the coolest Glamermaid's press on nails. These press on nails are really stylish and adorable, with just the proper touch of American mixed in for excellent effect. The Independence Road has different designs on each press-on nail.
 ● Belief Power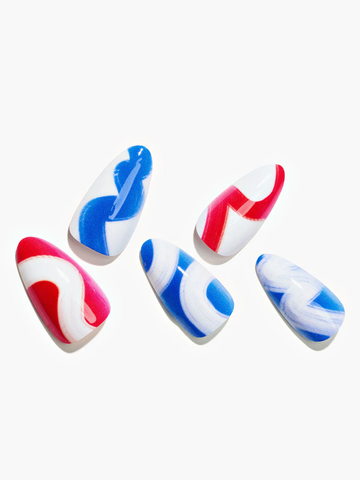 (click on the image to get the product)
If you want to celebrate Independence Day and do not want to cover your nails with the American flag, this Belief Power is the right press on nail design for you. It oozes sophisticated artsy vibes. It consists of swirls in blue and red color with a white base. 
●  Hard Times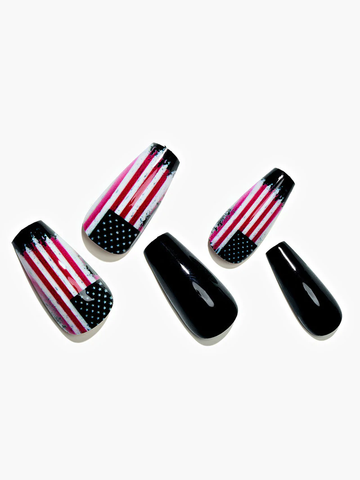 (click on the image to get the product)
Now is the opportunity to be bold and display the flag of the United States of America with pride on your nails. Hard Times press on nails come with two black accents. This press on nail design is perfect for girls who love black color.
●  Heart Country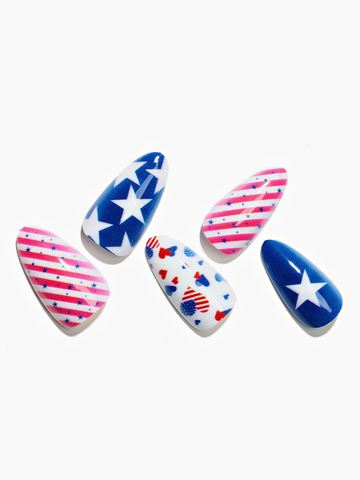 (click on the image to get the product)
This beautiful press on nail design is complete with stripes, stars, and hearts printed in the colors of the American flag. Each press on nail is a little bit different, which keeps things interesting. You are sure to be the star of the show with this Heart Country press on nail design. 
●  Fireworks Element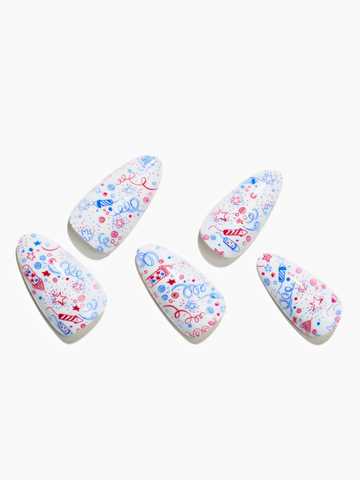 (click on the image to get the product)
Your manicure does not have to be over the top to be patriotic. And this Fireworks Element press on nail proves to be unique and simple. It consists of red and blue fireworks with a white base that gives a fun vibe to show off on Independence Day. Everybody loves a good firework display.
●  Fingertip Courage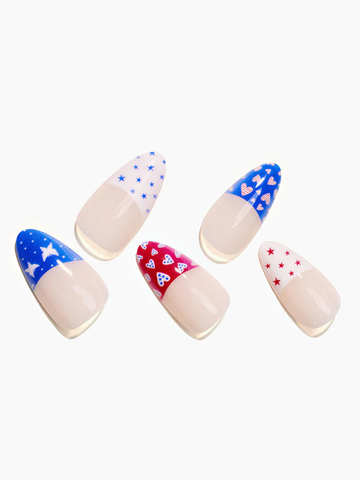 (click on the image to get the product)
Fingertip Courage press on nail design is the most elegant choice available on Glamermaid. What makes it more stylish are the different designs and colors on each nail. This press on nail design looks more prominent and makes the nails look elongated.
Wish a happy independence day to all the people in your country by getting the above-mentioned Glamermaid press on nails. These press on nails will surely provide an aura of subtle beauty to your hands. Instead of wasting time exploring many websites for Independence day press on nails, you should try Glamermaid since it offers designs that match your preferences.