Glamermaid's Trendy Handmade Nails Designed With Gold Foil Flakes
Press on nails designed with foil flakes are still popular in 2022, and it seems that gold foil flakes are the latest trend. And while you may think you need to travel to a professional nail salon to get this done, it is actually a pretty easy piece of nail art that you can do at home. All you have to do is purchase a Glamermaid press on nail with gold foil flakes and apply it to your nails. Alas! Now, in a matter of minutes, you can have the luxurious look of gold foil flake nails.
Glamermaid's gold foil flake press on nails are a well-designed handmade item. You can take a look at some of them right here. These nails have been their most popular sellers in recent months. They are hard to come by since they are so unique and gorgeous. They are as follows:
● Invisible Rainbow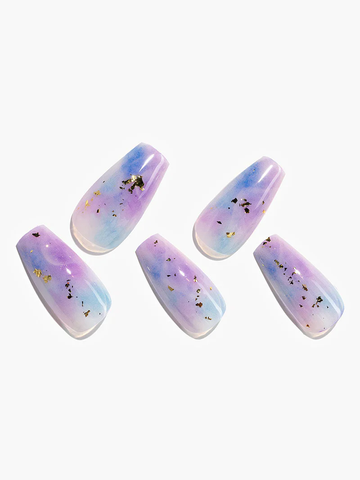 (click on the image to get the product)
Rainbow nails are now a thing, and there's no better way to wear them than with gold foil flakes. The Glamermaid's Invisible Rainbow press on nails make it simpler to make your selection. This design shows a colorful display of rainbow colors and creates a positive vibe around you. You can reflect the bliss of your life on your nails wIth this press on design.
● Scattered Gold
(click on the image to get the product)
Next, there is a unique press on nail design that would be great for any occasion. Glamermaid's Scattered Gold press on nails consist of a combination of nude and light orange shades with a hint of shine. These exquisite press on nails will make your hands look beautiful. On top of that, it is adorned with gold foil flakes.
● Cloudiness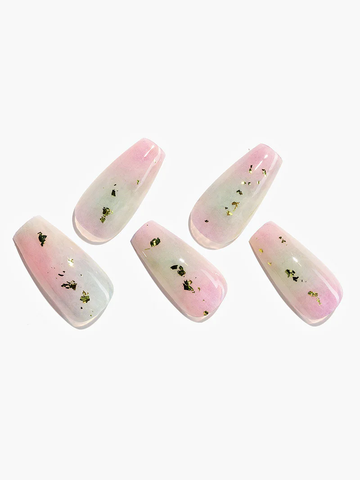 (click on the image to get the product)
Tap those fingertips in style with Glamermaid's Cloudiness press on nails. Your friends and co-workers will do a double-take when they see a pink nail design like this. At first glance, they may only see a put-together nude nail. On the second glace, they will notice the little pinky-purple shades tips. This is all due to its stunning and subtle ombre.
● Flower Clusters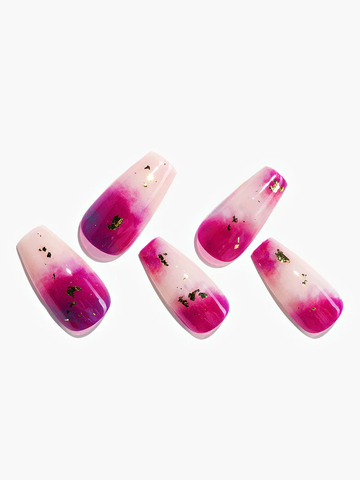 (click on the image to get the product)
It is safe to say that this is one of the best press-  nail designs available on Glamermaid. Here, they have long coffin nails with nude and vibrant pink ombre. The nail shape and the vivid color really create a bold press on nail. However, what really steals the show are the little gold foil flakes that are placed on the nails.
● The End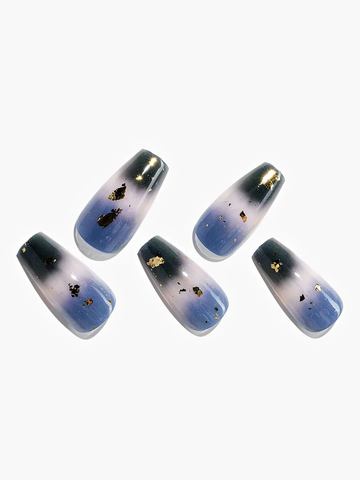 (click on the image to get the product)
Easy, youthful, and fun is the mindset behind this look of Glamermaid's The End press on nails. It has the combination of three different colors in one nail look which makes it both unique and creative. An ombre with black tips appears initially. The second one has a cream-colored pattern. Lastly, there is a blue one left. Gold foil flakes add extra oomph to this design. You can never go wrong with this design.
Glamermaid is all about spicing your nail game up with differing textures. Our unique work will blow you away with quality, reusability, value, and style. All of the nails are made using high-quality materials.