How to Make Press on Nails Last Longer

Applying press on nails is the easiest and the quickest way to make your nails look pretty and adorable. There are other methods to paint your nails, but using press on nails is the best method. These nails are not only cheaper, but they also help to save time.
How long do press on nails last?
Many people worry about how long do press on nails lasts. These fake nails usually last up to two to three weeks. It also depends upon the speed of the growth of your natural nails and the kind of tasks you perform. The main issue with the press on nails is that they have a tendency to come off prematurely. You can easily overcome this issue by following the below tips.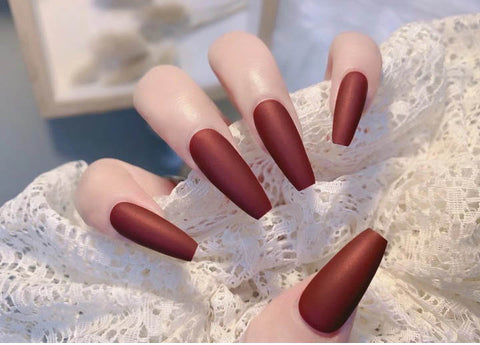 Here is the complete guide of how to make press on nails last longer:
Before you apply your fake nails, first wash your hands with a hand wash or antibacterial soap for at least 30 seconds. This will help to remove all the dirt and oil from the nail. Don't forget to completely dry your hands and nails before applying glue.
You should also use rubbing alcohol before applying nails to make sure there is no natural oil on your nails. If there is even the smallest amount of oil or nail polish on your nails then the nails will not stick perfectly.
The glue quality also matters a lot. The press on nails mostly come with nail glue, but it is always better to buy a good professional-grade nail glue. Also, carry a glue with you so if any nail comes off you can apply it with glue immediately.
Massaging the cuticle oil on your fingers helps to improve the health of your nails. If the health of your nails is good, then this will help the nails to stick better.
Short press on nails lasts more than the longer ones. The increased area of long press on nails is subjected to more tension and stress that can put more strain on the nail glue. Press on nails matching your natural nail size last long and are more durable.
After applying press on nails avoid swimming. The chlorine will soften the nail and might discolor them.
It is really important that you hold down each fake nail for at least 1 minute, so the glue sticks better.
After applying press on nails, apply a top coat. This will help you to give a shiny and professional finish and also help your nails to stick better.
After the application of the press on nails, avoid having your nails come into contact with water for at least 2 hours.
This is the complete guide on how to make press on nails last longer. The Glamermaid Press on nails are stronger than other press on nails. They come with a Glammermaid nail glue that holds the nails professionally for up to 3 weeks.