How to Strengthen Your Natural Nails
Nails' health can be quite challenging. They require a lot of maintenance. You have to trim them, file them, and paint them. But, have you ever thought about strengthening them? Everyone wishes to have strong and healthy nails. However, the clumsy tasks in our daily life may result into a nail-damaging situation.
There are several possible causes of nail damage. As you age, your nails get weaker. Furthermore, if your hands are often in water or cleaning supplies, they can break more often. Nail biting habit can also lead to damaged nails.  
For those of you who have noticed the weakening of your nails, there are a different manicure choices available to you. Gel manicure, Acrylic manicure, French manicure or Press on nails are some of the manicure options. These options are accessible to both beginners and experienced nail professionals. But, if you want to keep your nail healthy and strong, you might want to try the press on nails.
Recently, press on nails have been rising in popularity as an alternative to acrylic and gel nails. This is due to the fact that acrylic and gel nails are so hard that they damage your natural nails, resulting in weak, brittle, and broken nails. Painting nails is also not a good option, because they take the shine away from natural nails. Moreover, to remove the paint from nails, most nail polish contains acetone that can damage the nails.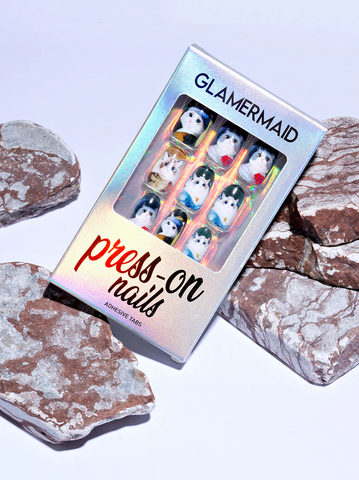 When it comes to stronger and healthier nails, Glamermaid press on nails are really a better choice. The reason for this is because they do not need any filing, and there is no odor. They just require adhesive or a bit of nail glue.
Tips On How to Strengthen Your Nails
Even if acrylic or gel nails have weakened your nails, you do not have to worry about it. Most weak nail problems are quite simple to fix. Here at Glamermaid, a lot of thought, love, and science has been put into helping you strengthen your nails.
Following are a list of tips you can do to bring your nails back to life and ensure that they never break again.
Drinking plenty of water strengthen your body, mind, and also strengthen nails. Most healthcare professionals say that you should drink at least eight glasses of water every day. Therefore, if you drink a lot of water all day, you will feel and look better.
Moisturizing the nails at least once a day reduces the risk of them becoming weak. It is effective to use Vaseline, or coconut oil to help keep your nails moisturize.
Apply cuticle oil or cream frequently
Cuticle oil and cuticle cream help you strengthen nails that are weak and thin. Most experts say that you should put cuticle oil or cream at least three times a day.
In order to maintain your nails in good health, you should massage them. This method will help you in the prevention of weak, dry and broken nails.
Avoid gel or acrylic nails
Gel and Acrylic nails are beautiful, but our nails are subjected to a lot of chemicals to get them which later can damage your nails. When it comes to nail care, it is best to stay away from them altogether.