The Best Way to Apply Press On Nails: Nail Glue or Adhesive Tabs?
Glamermaid Press on nails are easy to use, and they do not need any specialized skills to apply. However, there are two different methods for applying a press on nail correctly. Nail Glue and adhesive tabs are the two ways that you can use in applying press on nails.
●  Which Method Is Better to Implement?
The method you use in applying your press on nail is solely determined by how long you want them to last. You can use nail glue if you want something that will stay on for about one to two weeks, or you can use adhesive tabs if you want something that will stay on for about a day or two.
Additionally, it is entirely up to you and your lifestyle to decide how you want to apply your Glamermaid press on nails; there is no one option that is superior or worse. 
●  In What Circumstance to Apply Nail Glue?
You can apply nail glue if you want press on nails for a longer period, and you do not want to worry about your press on nails falling off. 
So with nail glue, you can wear press on nails continuously for 1 to 2 weeks. Just make sure you push them firmly so that they remain in place for an extended period of time.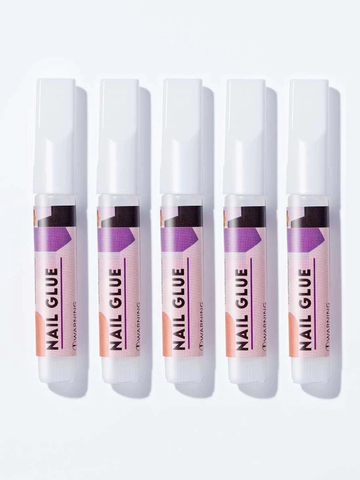 (click on the image to get the product)
●  In What Circumstance to Apply Adhesive Tabs?
You can apply adhesive tabs if your profession does not allow you to apply nails, but you still want to look your best for a special event. You can rock a wedding party, a business function, a date night, or just a pleasant hang out with friends while wearing Glamermaid press on nails with adhesive tabs that last up to 48 hours.
So with adhesive tabs, you can put on your press on nails for a night out, take them off as soon as you come home, and then pop them back into the box until the next time you want to reuse them.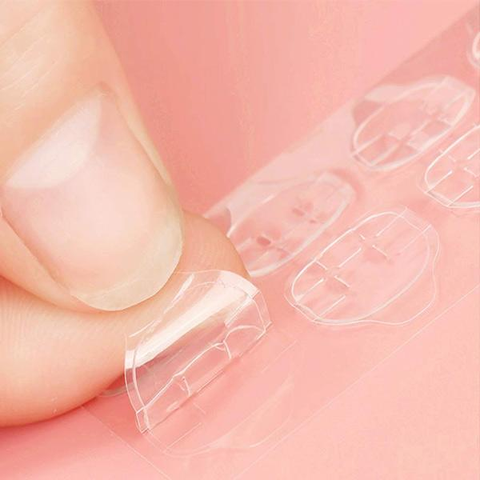 (click on the image to get the product)
●  Difference in The Application Process
When deciding between nail glue and adhesive tabs, the method of application can be a major consideration. In the case of adhesive tabs, you must first attach the adhesive tabs to your natural nails before removing the protective film and then applying the Glamermaid press on nail on top of the adhesive tabs.
Nail glue, on the other hand, requires just one drop of nail glue to your natural nails. And then maintain pressure on the artificial nail on top of your natural nail for ten seconds.
To make sure that you feel comfortable while wearing press on nails, Glamermaid ensures that their press on nails are safe for you to apply and environmentally friendly as well. Therefore, our nail glue is vegan and cruelty-free. Our nail glue is gentle and clean, and you will feel confident using it. In addition, using it will not harm your natural nails in any way.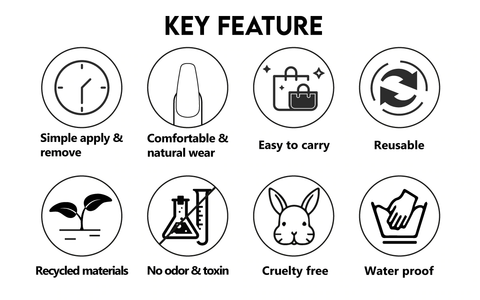 Each Glamermaid press on nails come with two sets of adhesive tabs. However, if you want, you can also get a set of 10 adhesive tabs from their official online shop. There is also a set of 5 nail glue pieces for you on the website. Glamermaid provides convenience for you so that you may make purchases in any way you desire.