The Most Popular Easter Designs for Press On Nails in 2022
Keyword: Press on nails, Glamermaid, Easter, Easter nail designs
Easter will be here in two months, and it is time to prepare for it. Easter brings happiness and joy. The get-together, children's smiles, and the food, everything makes children and adults happy. Since Easter comes in the Spring season, there are beautiful colorful flowers everywhere. This proves that Easter is full of colors.
If you haven't decided about Easter nails then we are here to help you out. There are many Easter nail designs that are trending this year. These include flower, graffiti, glitter, cartoon, pastel, and Ombre nail designs.
Here are some of the most popular Easter nail designs of Glamermaid for press on nails this year:
As Easter is full of colors so your nails should reflect the festival too. These Summer Gradient press on nails will look so good on your nails. The design features a fancy pink Ombre effect and has a matte finishing. We promise you that the Summer Gradient will go with any color of the outfit you own.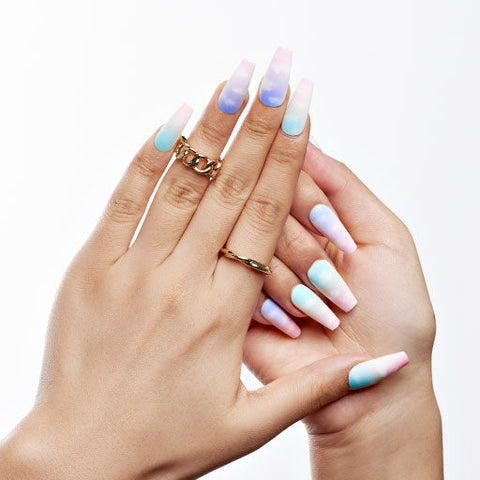 Daisy Garden is one of the most loved press on nails designs. The design features daisy flowers with white background and simple yellow nails. It has a glossy finish and is perfect for Easter. This nail design is simple yet so exotic. We are sure that everyone will ask you where did you get these nails from. You will surely love it!
Want to go for a funky look this Easter? If yes, then Paradise Heaven Press on Nails are for you. This nail design looks so lovely and features different nail arts. The nails are designed with a cross-eye smiley, pokemon, daisy flower, heart shape, planets, thunder sign, rainbow, fire, buffalo print, and the sky. This graffiti nail design is perfect for the Easter festival.
Simple yet so beautiful, the Daycation press on nail designs is one of our favorite designs. The colorful flower design on nude color looks really chic. These nails feature a matte finishing. The best thing about these nail designs is that it looks super cute and go with every color of the outfit.
The Tender Time nail design is for those women who like simple yet elegant nails. The elegant flower designs look really marvelous. The basic color of the nails is nude, while the flowers designs are made with white and pink colors. The Tender Time has a glossy finish which makes them look more gorgeous. Order yours now!
Looking for nails that will make you stand out from the rest of the crowd? If yes, then Ice Seaweed nails are for you. These glitter nails will reflect your shining personality. The nails feature a glossy finish, and the basic color is green. You will simply rock these nails!
These cute and adorable Dinosaur nails are simply the best. The nails feature cute dinosaur designs, and we are sure all children will love your nails. It features a glossy finish and the basic colors are white, yellow, pink, green, and red. This cartoon nail design will surely leave a mark!
If you are looking for elegant nude nails, then Nude Elegance press on nails are for you. These nails will make your hands look more beautiful. The nails feature matte finishing and the basic colors are nude, purple, and yellow. It is perfect for girls who love pastel colors.
We hope that you liked Glamermaid's Easter nail designs collection. Grab your favorite press on nails now!