THERMOCHROMIC NAILS
Amazing new type of press on nail art: THERMOCHROMIC
Posted at 18:00 - 15th July - Agnes Hale - Beauty & Accessory
Hi guys, so today I have a new review for you, with color changing press on nails from the Glamermaid. I'd like to be really excited about them because these press on nails are so close to polishes whether the look and the use feeling.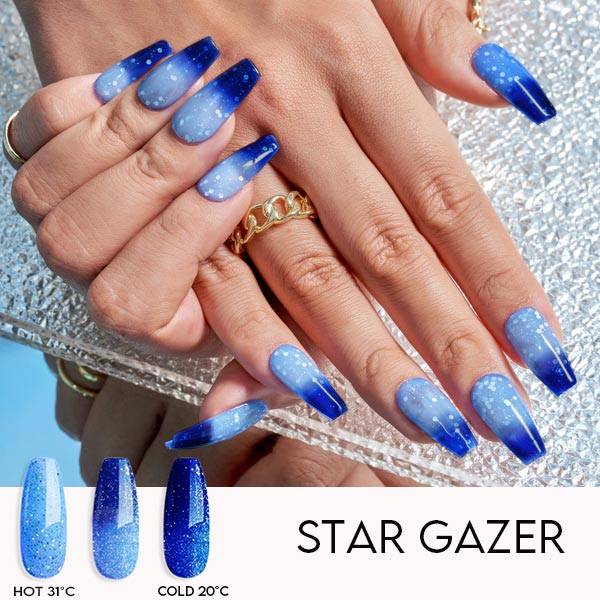 Star Gazer in the box appears to be blue with sequins. A nice dark ocean blue at that. I put it on and it's very easy with adhesive pads. Unlike those thin plastic press on nails it is thick and bouncy. I know that sounds a bit unbelievable but it's really how I would describe it.
Right when I put it onto my nails it remained dark blue but about after a minute it turned to a light sky blue. Like pictured below. I know the light blue is the part that is touching my skin, and the dark blue isn't so that is the temperature difference doing that.
Juicy Oranges is a beautiful orange with silver glitters in box and turns to almost transparent on my nail bed. It seems like that I have a lengthening nail manicure. What I have to say is the color, like what between the skin of Sunkist and the clouds of sunset, looked really bright and is perfectly fit for summer.
Blue Raspberry, my favorite of the group I got, is a lake lake blue in box and when temperature goes up it turns to a beautiful light turquoise with sequins. It looks like the surface of the Clear Lake where I visited last summer in California, with sequins look like spray. It was so shiny and much more opaque than the others and I'm really in love with it.
---
Overall, I was really impressed with these press on nails. The color was so great, and the use feeling didn't differ much from nail polishes, even more convenient.

All of that being said, if you would like to check out this press on nails you may click Glamermaid.com

. Plus if you are shopping in the Glamermaid you can buy 4 press on nail kits to enjoy free gift and there is free shipping over $25.

Well I hope you all learned something in this blog post!:)