Description:
WHAT YOU GET
$50 E-gift cards *1(Get a $50 gift card for just $40)
The final payment price of the gift card can be seen in the cart and checkout page is $40.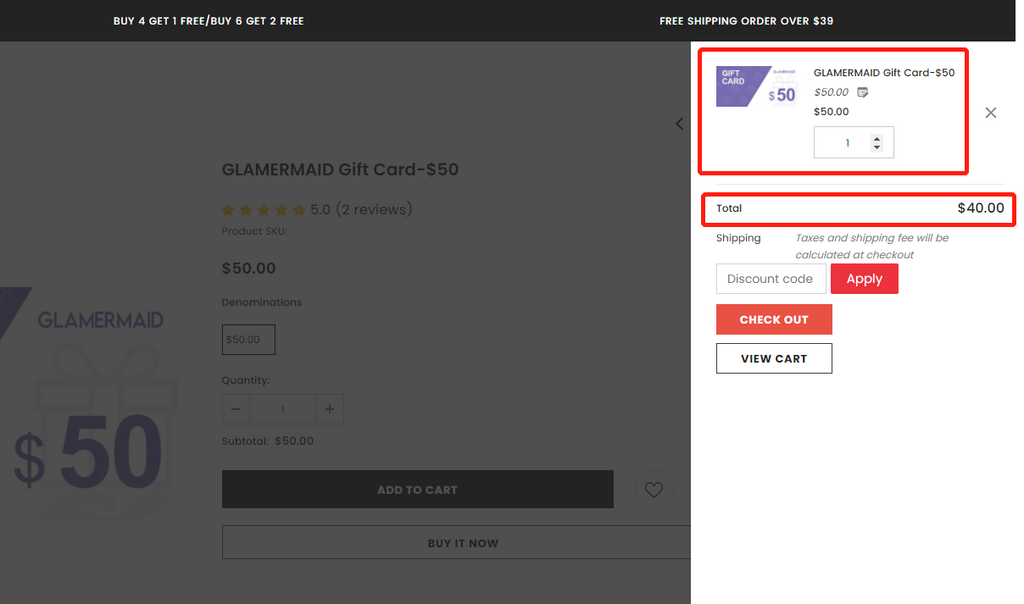 FAQ
Q: Can a gift card be used more than once?
A: Yes, provided there is still a balance remaining on the card. You can see the balance in the email that contains the gift card code.

Q: Can more than one gift card be used towards a purchase?
A: Yes. You can redeem another gift card during checkout.

Q: Can a gift card/discount code be used to buy a gift card?
A: No, you can't use a gift card to buy another gift card. Also, we have no discount code that can be applied to buy a gift card.

Q: Can gift cards be used in conjunction with a discount code?
A: Yes, gift cards are a form of payment, which means when you purchase items (except gift cards) on our online store, you can use gift cards and a discount coupon at the same time.

Q: Can a gift card be sent to someone else?
A: Yes, you just need to forward the gift card email to the recipient.

Q: Can I get the gift on the website by purchasing a gift card?
A: Sorry Dear. If an order, except for the shopping cart, does not reach the threshold of the gift, the obtained gift will not be issued.