A Style You've Never Seen Before: Luminous
Now, the luminous style is usually the craze at every Halloween party, so if you are looking for the best press-on nails that will give your nails the perfect glow and catch everyone's attention, look no further than Glamermaid.
Ahead, there are a few gorgeous Luminous style press-on nails from Glamermaid for a Halloween party that are so good you might not even need a costume.
1.
Scared Skull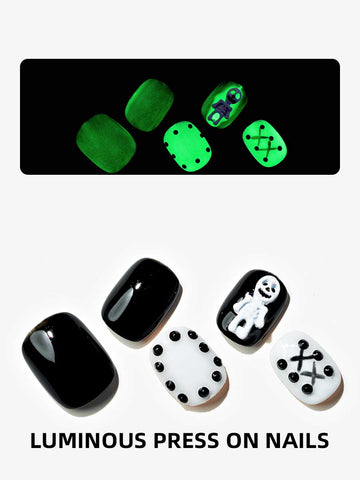 Get your Halloween nails ready for the spooky season with these cute black and white skulls. These Glamermaids Scared Skull press-on nails even glow in the dark! So, slip on a Skeleton bodysuit to match these gorgeous nails, and you have a perfect overall appearance for All Hallows' Eve.
2.
Fierce Pumpkin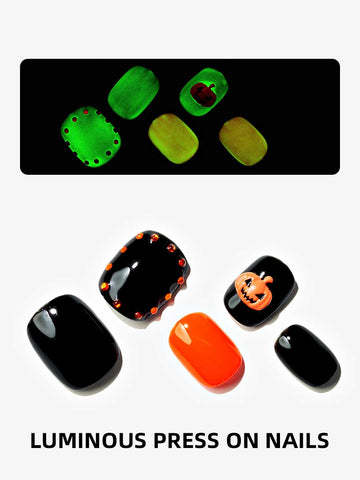 Halloween, but make it chic. You have to try orange over black for glowy nails! It's such a great contrast between two bold colors and is bound to give so much power to any costume for Halloween! This manicure shows just how well the orange pops against the black. It also features an evil grinning pumpkin. These Fierce Pumpkin press-on nails are to die for. They are perfect for the spooky vibe you may be going for this year.
3.
Lovely Ghost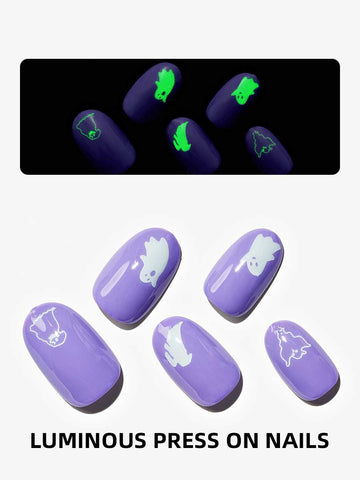 Not all ghosts are scary! To bring some friendly ghosts into your life, try out this press-on nail from Glamermaid. It has a simple but effective glossy ghost look that's just the right amount of spooky. These Lovely Ghosts press-on nails are perfect for those who want to celebrate but would prefer to keep things simple.
4.
Emotional Pumpkin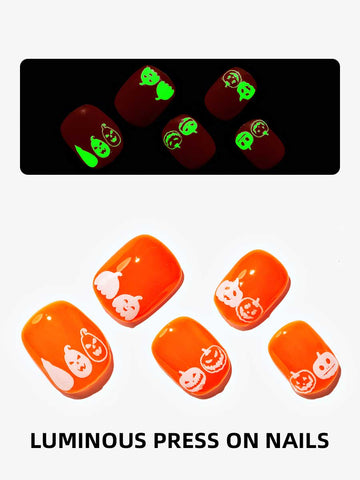 The perfect mixture of scary and sweet. If you can get this stunning Luminous style nail, do not hesitate to do so! Because who wouldn't love glowy, spooky pumpkins for Halloween? Emotional Pumpkin press-on nails are perfect for those who want a Halloween manicure that's also fit for the fall season, these pumpkins are giving us all the autumnal vibes. It's so cute and spooky at the same time, and those adorable expressions of pumpkins really do not disappoint- just like any other set on this list!
5.
Bad Change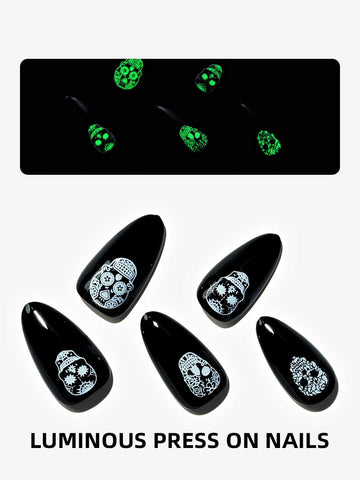 If you and your group of friends are planning to go for a zombie apocalypse costume this year, there could not be a better nail art for you than this! It has the famous neon color that trends for Halloween every single year. It does give off spooky vibes in its own unique way, so you can't really go wrong with it! At any glow-in-the-dark themed party, this is a color that actually shines the brightest, so if you are looking to make a statement with your nails, Bad Change press-on nail is your best bet ;).
6.
Ancient Cemetery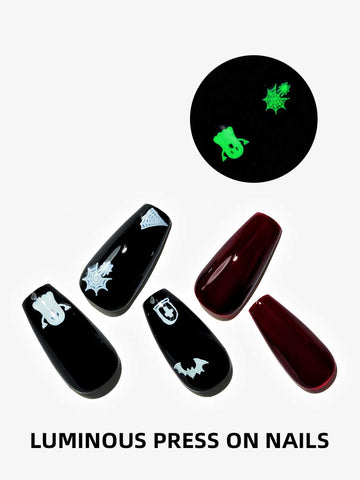 Recreate a spooky graveyard scene from every horror movie. Wear cute and spooky creatures on your nails for Halloween with this Luminous style press-on nail. These glow-in-the-dark prints are bats, spiderwebs, ghosts, and coffins. Plus, all you have to do is stick 'em on! Complete your vampire, ghost, or ghoul costume with a convincing set of press-on nails. Ancient Cemetery press-on nails aren't your mom's press-on nails - they're something altogether different and weird! They even glow in the dark!