Halloween Style, It's Enough to see here!
Halloween is just around the corner, and the time is less to decide what to wear. People from all over the world start preparing for Halloween a month ago. You have to think about your costume, your hair, shoes, and even your nails. Halloween without funny and funky press on nails will be a dull affair. So, if you still haven't decided about your press on nails, then we are going to help you out. Glamermaid has come up with the best Halloween press on nails, and we are sure you will love them!
Here are some of the coolest and funniest Halloween style press on nails to try out this Halloween.
Ghost Celebration
Pumpkins, Ghosts, and Bats are all that we see during the whole October month. If you are also a fan of these items, then have them on your nails too. The Ghost Celebration press on nail design is for the coolest people. These press on nails have a fine glitter finishing making them look heavenly. They are magical and will cast a spell on everyone around you!
Night Soul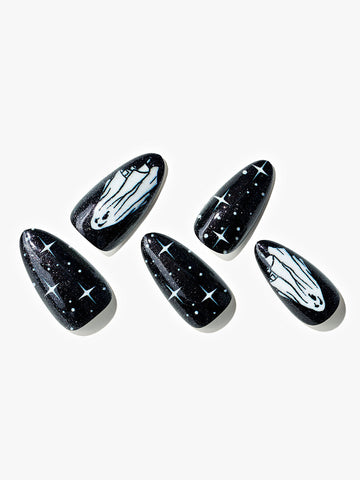 What's a Halloween without a ghost costume? This time celebrate Halloween by wearing Night Soul press on nails. These press on nails have a ghost design and shiny stars with a black background, making them a perfect accessory for Halloween. Order yours now!
Halloween Vibe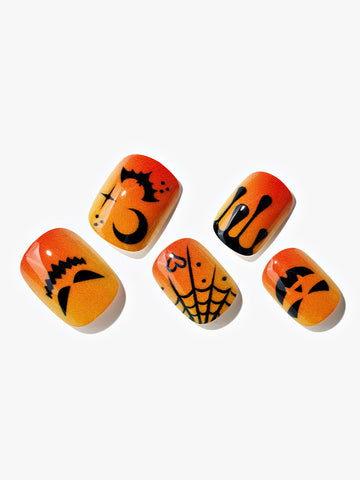 No press on nail designs can give you a better Halloween vibe than these Halloween Vibes press on nails. They have an orange background and are designed with horrible pumpkin faces, moon, bat, blood, and spider web. Nothing can go wrong in your life when you wear these press on nails. Wear them and celebrate this Halloween with style!
Spiderweb Cat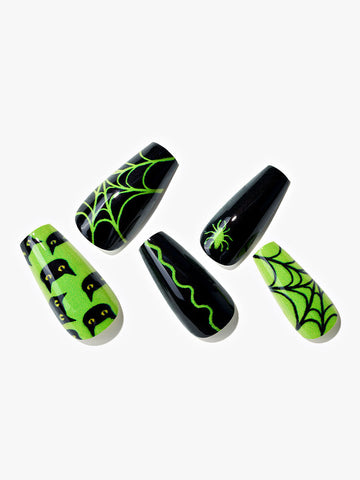 Looking for a cool yet funny press on nail design for Halloween that will match the Halloween theme too? If yes, then get your hands on this Spiderweb Cat nail design. These press on nails are designed with a black cat, spider web, and spider. The black and funky green color will surely catch everyone's attention even at the party.
Sweety Ghost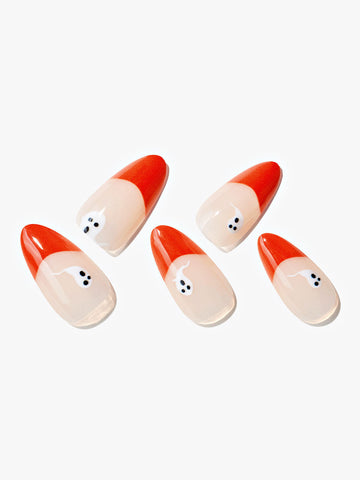 If you are someone who doesn't like a lot of attention, then Sweety Ghost press on nails are for you. They are simple yet very cute. The red tip with a ghost design is fun to wear. They have a glossy finish and hence make the press on nails look dainty. We are sure you will catch everyone's attention by wearing them.
We hope that you like Glamermaid's Halloween press on nails that are funky and match the theme perfectly. Gone are the days when you would just simply paint your nails or go to a salon to get the Halloween nail art done. One of the best things about our press on nails is that they will only take 10-15 mins to apply. Hence, you can save your time and spend that time doing your makeup or hair. Have a happy Halloween with Glamermaid Press on nails!