Plus Set Of Glamermaid Press On Nails
If you love having your nails done but can't always head to the salon, it is time to put press on nails on your radar. Whether you want to wear your nails long or short, polished to perfection or accentuated with gems, there is a press on nail set for that!
Glamermaid can satisfy your unique nail art desires with the special upgraded plus set nail collection. The plus sets nail collection has recently emerged as a trendy alternative. As a result of this, Glamermaid has introduced 36pcs plus sets in addition to a regular set that has 24pcs.
You will experience a high-quality appearance of both regular set and plus set, as long as you choose Glamermaid's for your press on nails. They come in a variety of shapes, styles, and colors, and not to mention are budget-friendly.
Advantages of Opting Plus Nail Sets
The Pros of using Press on Nails are as follows:
More Design Options
A Regular set usually includes 2 X 12 pieces having different nail sizes and designs, which makes a total of 24 pcs. While a Plus set consists of 3 X 12 pieces having different nail sizes and designs which makes a total of 36 pcs. Hence, using plus size set will give you more options to choose your favorite nail designs, if every nail has a unique design. You can choose a single design thrice in your nail arts from now on by using plus sets.
Budget Friendly
If you choose a plus set, you will be required to pay an additional dollar compared to the cost of a regular set. Yes, only a dollar and you will be getting 12 more pieces of similar nail designs.
Rescuers
If you are someone who easily loses or breaks their nails, then you will be happy to have additional nails by opting plus sets for your nails. Purchasing plus set will be advantageous since it comes with more pieces that won't be an issue if any one of the pieces gets misplaced.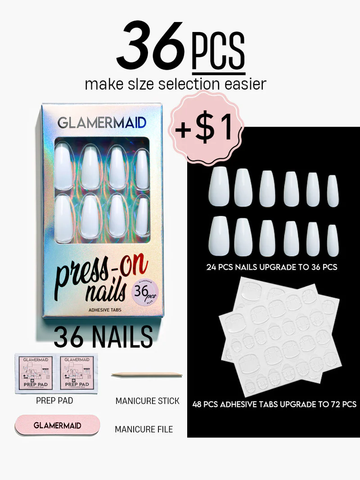 Therefore, a plus set available on Glamermaid is the more preferable choice for you. This is because a plus set comes with an additional piece for each nail size in comparison to a regular set. Plus sets are also distinguished from regular sets by 36 pieces of nail set and 72 pieces of adhesive tabs. Other components that are included in both regular set and plus set are manicure file, manicure stick, and prep pad.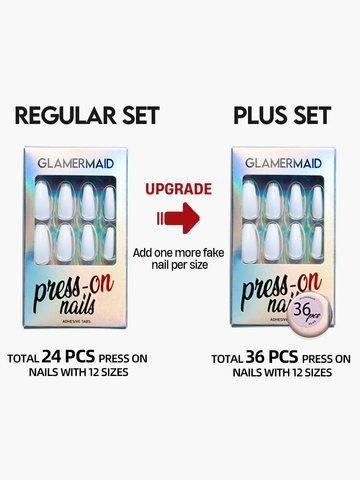 The following is a list of some of the plus sets of Glamermaid press-on nails:
●
Cat Family- Plus Set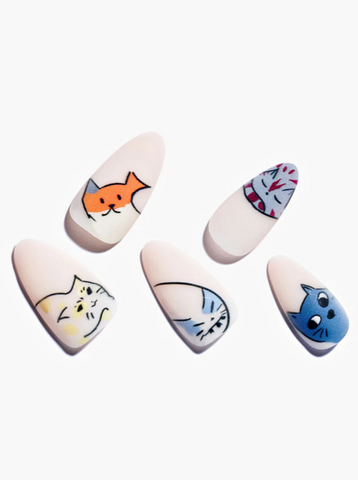 (click on the image to get the product)
When it comes to nail art, you can choose whatever design you like. However, the Cat Family Press On Nail Plus Set from Glamermaid will look cute on your nails. By using press on nails, you can choose your favorite cat thrice.
●
Prophet- Plus Set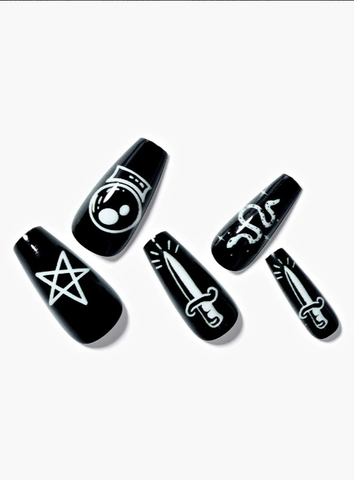 (click on the image to get the product)
You may be familiar with different nail designs, but prophet nails aren't something you see every day. Try these trendy Glamermaids prophet press on nail plus set to see why reviewers are calling them "absolutely fabulous".
●
Game Time- Plus Set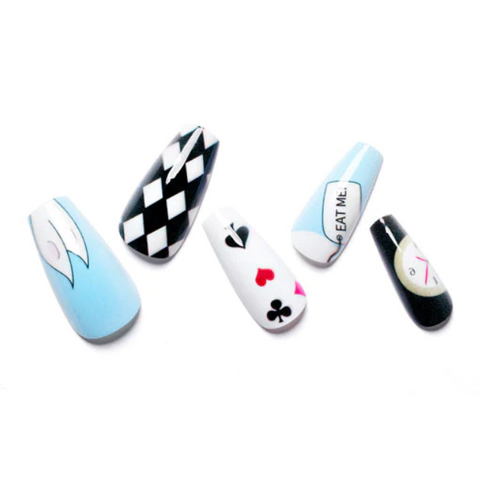 (click on the image to get the product)
It is safe to say that Glamermaid nailed it with their Game Time press on nails. This press on nail plus set is comprised of different nail designs that you can choose thrice.
You can place an order for them by picking the option that corresponds to the type of set that you like, which might either be a regular set or a plus set. Make sure to add them to your cart!