How Can Summer Camping Be Without the Topic of Flames?
When the earth's tilt sets our hemisphere directly in the sun's loving gaze, it is time for camping.  And how can summer camping be without the topic of flames? You'll be pleased to hear that the flame theme has spread to the world of nail art, too. Now you can embrace the spirit of summer camping with your flame-inspired nail art.
Every summer, new nail trends become popular. This summer's crazy-popular yet still beloved nail art trend that we don't think you'll ever get tired of? Flame nail art. The fiery and eclectic trend started popping up this past winter, and it shows no signs of slowing down whatsoever. Whether the flame design nails are in neon or holographic silver, on nude nails, or a matte color underneath, with short or long nail tips, this trend is totally eye-catching.
So, Glamermaid came out with new flame design nails that make your manicures look hot and sexy.
Divine Punishment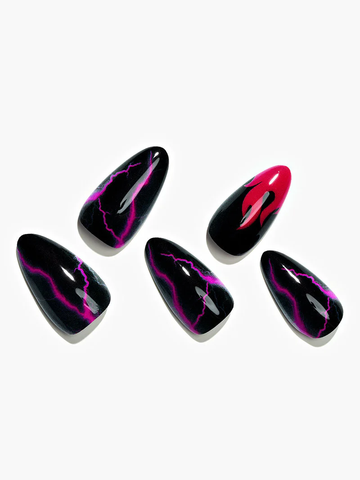 Black nails never go out of style. Kick-off with this uber-edgy press-on nail design, which features a black base color and a red accent flame nail painted overtop. It also shows a purple thunderbolt that helps the black flames pop, so feel free to choose this Divine Punishment press-on nail design for your next mani! Just one look at this press-on nail, and you'll understand why: this flame nail design adds an edgy vibe to your entire look, and it really embodies punk-rock "cool girl" energy.
Black Icon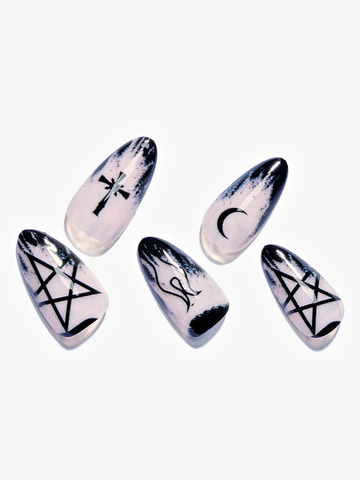 The goth aesthetic is about the unexpected combination of black with light, feminine colors. Use this Black Icon press-on nail design to channel the best of both worlds. This press-on nail has different prints on each nail. It has stars, a moon, a cross, and a flame. Each print has a black color enhancement on a white background.
Bat And Flame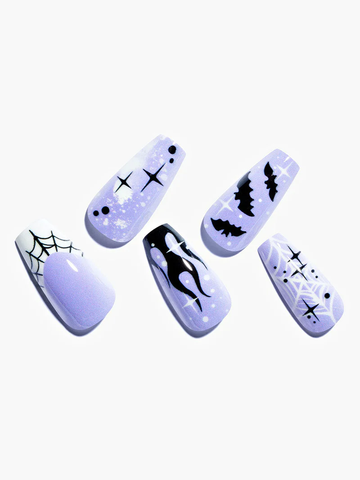 If you want something unique, consider Bat And Flame press-on nail design. In this design, each press-on nail features unique patterns that personify the bad girl image. On each hand, two nails have sparkle nail art, and the other remaining nails have bats, and spider web, flame on the nail tip. You'll surely love the black and white combination.
Fire Element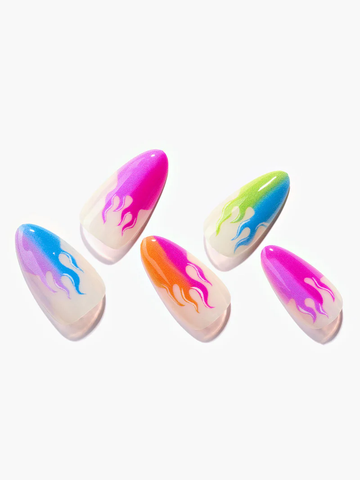 Stand out from the crowd in style with nails like these! Fire Element press-on nail design features neon flames! This press-on nail is in a stylish almond shape, and it starts as a nude, and the colorful flame designs are added to the nail tips. Each nail is different in a color that complements each other. On each hand, three nails have ombre flame art, and the other two have pink flames. You'll surely love the colors because the blue, purple, orange, and green look stunning together. This Glamermaid's press-on nail is perfect for summer camping.
Ice And Fire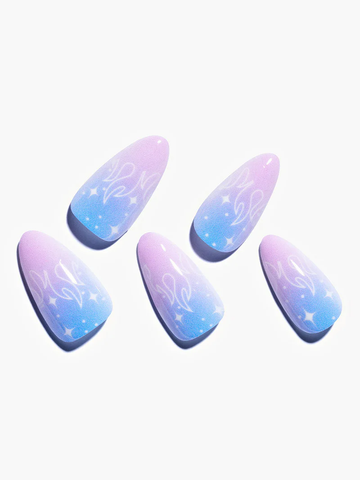 This press-on nail design is a sort of minimalist take on the flame trend: Ice And Fire press-on nail design has a monochrome color scheme, which combines a baby pink and a blue shade with white outlined flames for a fun Barbie effect. It gives off a warm and cool mix.
Bad And Blue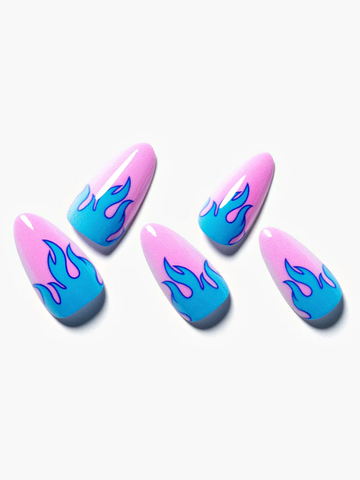 If you like to wear statement-making nail art, then this Glamermaid's flame design nail is perfect for you. The Bad and Blue press-on nail design features a light pink base color on the nails with striking blue flames. However, blue is often associated with cold, but when a flame turns blue, it actually means it's very hot — so a blue flame is a great way to channel the summer heat. In this press-on nail, the blue flames stand out against the color underneath, and the result is trendy and bold.